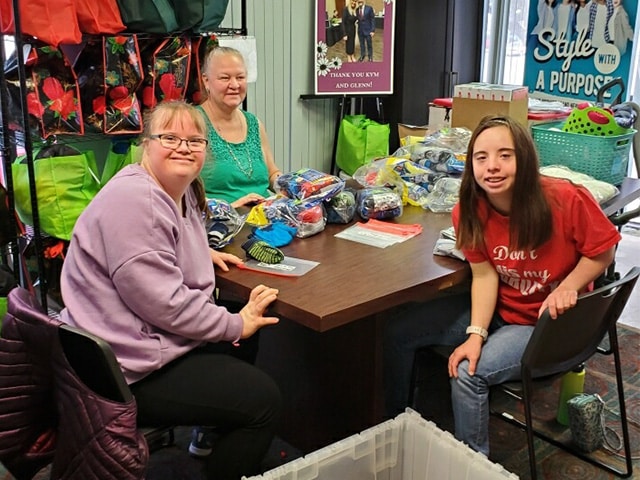 We provide an opportunity for those with Down syndrome (age 18+), staff, and parent chaperones to give back to the community through volunteerism. 
1st and 3rd Fridays of each month (except for holiday weekends)
1:00 - 3:00 p.m.
Currently, we are meeting at SA Threads, 10446 Sentinel St., 78217
We will provide various opportunities to volunteer at the DSASTX office, as well as off-site locations.
*Volunteers will need to have reliable transportation if they attend off-site activities.
Note: Community Volunteers will not meet on the following Fridays in 2023:
March 17
April 7
July 21
September 1
Daremos una oportunidad a las personas con síndrome de Down brindamos (mayores de 18 años), el personal y los padres acompañantes, retribuyan a la comunidad a través del voluntariado.
Primer y tercer viernes de cada mes (menos cuando hay puente)
1:00 - 3:00 p.m.
Actualmente, nos reunimos en SA Threads, 10446 Sentinel St., 78217
Damos varias oportunidades para ser voluntario en la oficina de DSASTX, así como en ubicaciones fuera del sitio.
*Los voluntarios deberán tener transporte confiable si asisten a actividades fuera del sitio.
Nota: no nos reuniremos los siguientes viernes en 2023:
7 de abril
21 de julio
1 de septiembre
The generosity of donors allows the Down Syndrome Association of South Texas to provide this service for free.